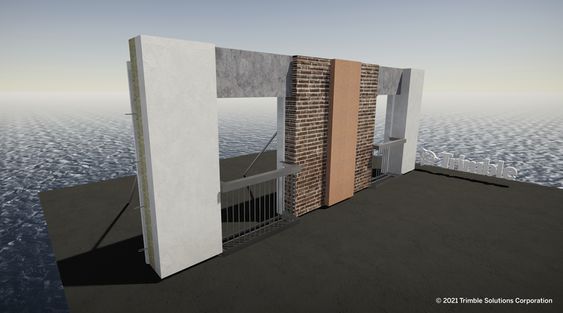 With a keen eye for software usability and construction quality, we continuously work on industry interoperability to help our customers and stakeholders collaborate fluently and effectively. Initiated by software users and developed by the buildingSMART working group, IFC4precast is now officially the international standard to support the BIM process for the precast industry. 

The precast concrete industry has recognized the signs of the time and the need for digitization, and support is needed to integrate with its various software systems, including CAD, MES, PPS and ERP. As a movement reflecting the need, several established software vendors, such as Trimble, came together under the umbrella of buildingSMART International and founded the IFC4precast working group to develop the best possible data exchange standard for the industry. IFC4precast has now been officially recognized by buildingSMART as the "Final Standard" and released for all software developers to implement more intensively.

"IFC4precast is definitely a group effort, and its development as the industry standard will continue," says Thorsten Hertel, Trimble's Product Manager for Precast Fabrication and representative in the buildingSMART working group. "Competitors decided to work together to create a better standard and more value for the industry. Tekla Structures software is designed for prefabrication and enabling data-driven workflows into automated production, and the open BIM approach and interoperability with other technologies are an integral part of our software development thinking. We continuously improve our capabilities in this area."
The precast concrete industry can now benefit from manufacturer-neutral data exchange
The standard is the result of many years' hard work and continuous commitment by the participating companies from multiple countries. After successful step-by-step software validation,  the buildingSMART standards committee confirmed the IFC4precast, and the precast concrete industry, too, can now benefit from manufacturer-neutral data exchange, as the various design, management and production systems used in precast find a common language in IFC.

"The standard is now accessible to anyone who wants to do the implementation," Hertel continues. "For example, the export functionality and selection of settings to export in IFC are now available for Tekla Structures users. In terms of software development and functionality point of view, this might not be a big deal, but the beauty of it is: built upon a standard, the system is fairly straight-forward. We are committed to standardization and open BIM and will do whatever is needed to support it so that our customers get the best possible value."
"Because the model they provide via the IFC standard includes all fabrication-relevant information and much more. Based on the model, the manufacturing execution solutions at the factory are able to figure out the production requirements and the demands and constraints remain in the factory environment, so to speak," Hertel explains.