Tekla Global BIM Awards: meet the winners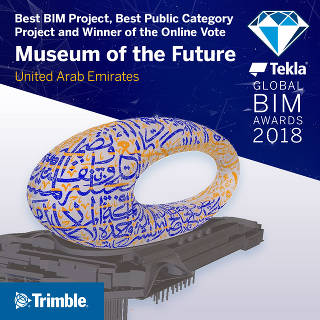 Trimble announced today the winners of its Tekla Global BIM Awards, a biennial competition showcasing the world's most impressive structural construction projects. Unfortunately no winners this year from the Benelux. During the previous edition in 2016 Oostingh Staalbouw won the Global BIM Award in the Sport and Recreation category with the project 'Sportcampus Zuiderpark'.
The competition, which began in 1999, welcomes projects that exhibit innovation and push the boundaries of structural engineering and BIM. Over 140 projects entered the competition, which included winners of Tekla regional BIM Awards from 36 countries. A committee of five industry experts – Christian Jahn, Elbert O. Speidel, Marina Korol, Craig Garrett, and Jari Heino – selected the winners. The selection committee evaluated the 16 finalists based on an assessment of collaboration, implementation, innovation and constructability.
The winners
Museum of the Future 
Best BIM Project, Best Public Category Project, Winner of the Online Voting
United Arab Emirates | Eversendai Engineering L.L.C.
Luminary
Best Commercial Project
Finland | A-Insinöörit Suunnittelu Oy, Skanska Oy, BST-Arkkitehdit Oy, Betonirakenne Oinas Oy, Parma Oy, Optiplan Oy, Caverion Suomi Oy
Hinkley Point C
Best Industrial Project
United Kingdom | Atkins
Trafikplats Vega
Best Infrastructure Project
Sweden | ELU Konsult AB
Optus Stadium
Best Sports & Recreation Project
Australia | Arup & PDC Group
BlackSea-TORM
Best Student Project
Turkey | Fatih Yesevi OKUR, Ebru KALKAN, Ergün ERDOĞAN, and Rufai DEMİR – Karadeniz Technical University
Station La Glaciere
Best Small Project
France |  Baudin Chateauneuf
Kainuu Hospital
Special Recognition
Finland | Kainua-alliance: Kainuu social and health care joint authority, Skanska Talonrakennus Oy, Sweco Rakennetekniikka Oy, Sweco Architects Oy, Sweco Talotekniikka Oy, Sweco PM Oy, Caverion Suomi Oy