Transforming the Construction of North Sea Oil Platforms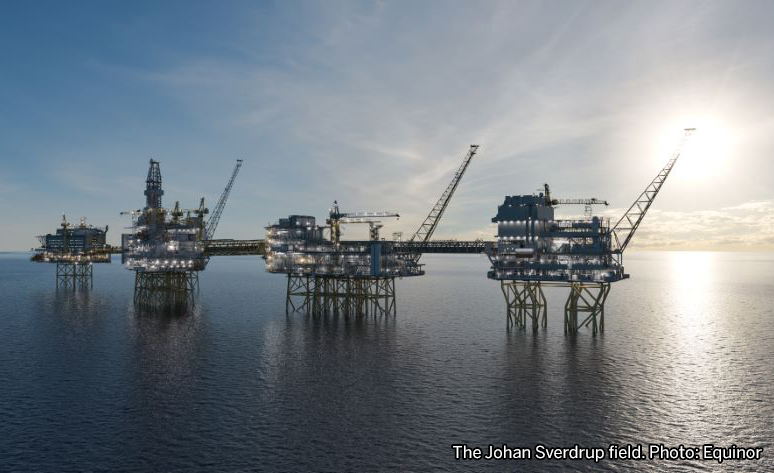 Norwegian offshore constructor Aibel has put Tekla software at the heart of its work designing and manufacturing oil platforms. Aibel's ongoing project for the massive Johan Sverdrup field is a story that moves from the tropical shipyards of Thailand to the stormy waters of the North Sea.
The Johan Sverdrup oilfield holds a special place in the history of Norway's offshore exploration. 
The discovery of the field in 2010 came as something of a surprise, as it lies in that part of the North Sea – some 140 kilometres west of Stavanger – where oil exploration began in the late 1960s. It's an area that was long thought to have been exhausted of oil but will now produce until 2050 and yield some 2.7 billion barrels. This makes Johan Sverdrup one of the largest oil fields in Norway's history.
Named after the country's first parliamentary prime minister, the Johan Sverdrup field began production in October 2019, led by state-owned energy company Equinor. The first phase of the project goes on until 2022 and involves four fixed-platform installations, with a fifth added later.
Turning Challenge into Opportunity
Two of Johan Sverdrup's platforms are designed and manufactured by Norwegian company Aibel. Founded more than 130 years ago, Aibel serves the global energy industry with engineering, construction and maintenance services. The company employs some 4,000 people at engineering offices or yards in Norway, Singapore and Thailand. To date, Aibel has built or modified more than 50 platforms.
Like many operators tied to the energy industry, Aibel has faced challenges in the past when the price of oil has suddenly dropped. This volatility has led to projects getting cancelled or delayed and fees for subcontractors falling dramatically.
The MSF module for the Johan Sverdrup P2 platform. Photo: Aibel
As Aibel is continuously looking for innovations to increase efficiency and stay competitive, it's natural for the company to focus on improving its own operations. To this end, in 2013, Aibel set a target of reducing overall engineering time by up to 30%. To achieve this, the company looked more closely at how it produces construction documentation and efficiently brought together its teams working in different locations. This is how Aibel came to introduce Tekla software and model-sharing capabilities more widely through its organization.
"Our colleagues in Singapore and Thailand were already using Tekla for the high-value engineering work we do in Southeast Asia. When we saw how efficient their output is and the tremendous volume of documentation they can produce, we set up a team to see how we could use Tekla in other projects, too," says Aibel's Charles Halaas, IT Manager Field Development and Offshore Wind. 
Ole Kristian Halvorsen was appointed to lead this team's effort to find efficiencies in the company's drawing production process, bringing together Aibel employees from multiple different functions.
"If we do not go in the digital direction, then we risk losing future projects by not being competitive enough. Fabrication-ready 3D models are a very efficient way of working"
Efficient Design, Automated Production
The project was not without challenges due to standardization requirements within the oil & gas industry and the need to integrate Tekla software with existing solutions. 
"The design model and the fabrication model should always be the same. But as our industry requires the use of E3D as a design tool, it is challenging to extract a 3D fabrication model into Tekla software," says Halaas. 
"Thanks to some great co-operation with experts in using Tekla for 3D design, we were able to produce interface methodology to overcome this challenge and semi-automate our drawing production."
Introducing Tekla into the fabrication process is instrumental in helping Aibel in another of its key development areas: robotics. The company uses state-of-the-art computer-controlled cutting machines in its yards. These have been integrated with Tekla software for a higher degree of automation across the design and manufacturing process. 
"We see the greatest benefit of this integration in our profile-cutting machines," says Halaas. "For example, when we have two metal beams meeting at a given point, there is usually a crossover joint that is quite complicated to cut. Previously, we used manually operated mechanical saws to cut these. Now we use the Tekla model to guide the robot and cut with incredible accuracy."  
"In general, our previous catalogue-driven design tools were not very shopfloor friendly and cannot drive robots efficiently," he says. "But Tekla software produces accurate information in the right format for feeding into the machines. We have seen efficiency gains of up to 95% in manufacturing and quality assurance."
These efficiencies are critical for Aibel, as the company is now being asked to build some of the largest oil platforms in the business. The platform for the second phase of Johan Sverdrup has a topside weight of some 25,000 tons and will require more than 17,000 structural drawings. It's Aibel's largest project to date.
"We are very much into digital fabrication at our operations in Norway and Thailand," says Halaas. "At Aibel, we want to go all the way and develop 3D models that are ready for machinery and fabrication. This is our vision of a digital yard."
"If we do not go in the digital direction, then we risk losing future projects by not being competitive enough. Fabrication-ready 3D models are a very efficient way of working," he says.
"In addition to efficiency gains, the improved robotics have made our yards safer, as there is less need for employees to lift and cut heavy materials."
Photo: Eivind Berg / BuildingPoint Scandinavia
"Tekla is a very solution-oriented company and was eager to help us overcome any challenges. To ensure successful implementation, they supported us with a specialist team too"
Pilot Projects and Influencer Support 
To get buy-in for these changes from employees at all levels of the organization, Aibel has used a pilot-project approach and enlisted the help of key internal influencers. Tekla's model-sharing capability and support functions have also been instrumental in shifting mindsets at Aibel.
"This has been a giant leap for us that demanded trust, commitment and hard work from people across Aibel's operations," says Halaas. "The result is that we are now more seamless in distributing and sharing work around the world, as Tekla is in the cloud and makes collaboration much easier. We can now appoint anyone anywhere in the world to create drawings for us."
"Typically, we do design work in Norway, and then the drawings are extracted for fabrication in Thailand and Singapore," he says. "This global way-of-working has been much more challenging in previous projects when we were not able to share Tekla models in the cloud. In the past, we had to freeze the work more often. Now we can work much more flexibly."
"Tekla is a very solution-oriented company and was eager to help us overcome any challenges. To ensure successful implementation, they supported us with a specialist team too," says Halaas. 
"Tekla software will continue to play a crucial role in Aibel's future too."
---
Aibel is a leading service company within the oil, gas and offshore wind industries. We provide our customers with optimal and innovative solutions within engineering, construction, modifications and maintenance throughout a project's entire life cycle. 



Aibel's 4000 skilled employees are located close to our customers at the company's offices in Norway and South East Asia. In addition, we operate two modern yards in Haugesund and in Thailand, with complete prefabrication and construction capabilities.
www.aibel.com
Read more about Tekla solutions for offshore structures.